Rainbow Tiny Home Builders tour Tinywood Homes in England!
The first time we Googled "Tiny Homes" this picture of a tiny home with a hot tub came up.
...and I thought, "I would LOVE to see this in person!"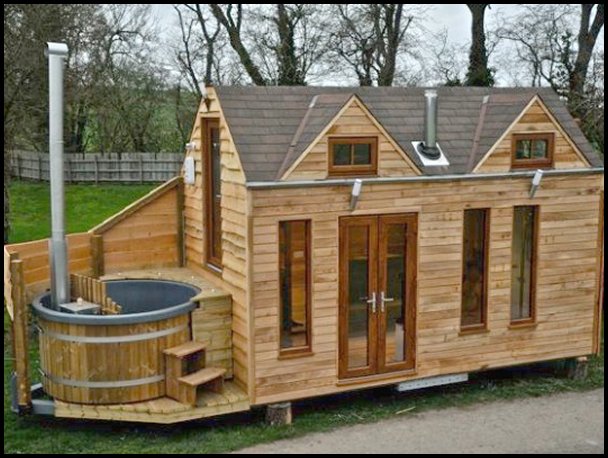 After a little research we learned Aidan Reeves of Tinywood Homes created this sweet gem and it could actually be rented in Warwickshire England. We were going to England so I contacted Aidan and asked if we could visit his tiny home and pod community to view them first hand and he said, "Yes!"

Tinywood Homes is nestled behind a lush tree lined lane in the beautiful English countryside. Turning into the drive you're transported to a place that defies linear time – a place that beckons you to take off your shoes, wiggle your toes in the luxurious green grass, relax and BREATHE…



Aidan welcomed us to his Tinywood community and graciously showed us each of the tiny homes and pods. Each one had it's own hot tub.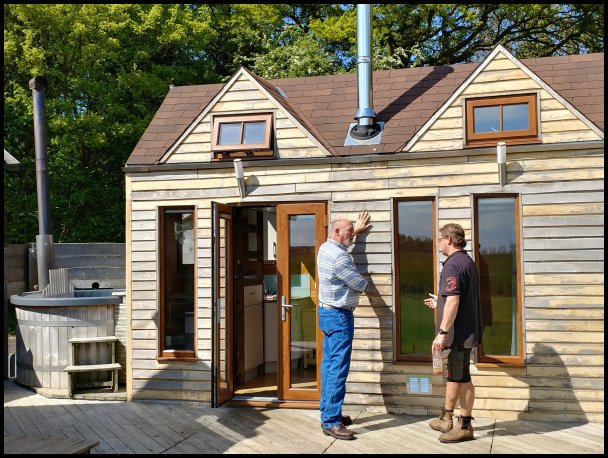 We stood on the deck of the tiny home we had Googled in the States!

Aidan and Fred talked wood, appliances, stairs, details and hot tubs. Then he shared with us that he mills his own wood – OMG! So then we toured the mill. What an adventure!

It was so exciting to tour Aidan's tiny homes. When you tell the universe the desires of your heart, miracles happen and dreams are no longer "somewhere over the rainbow!"

Be sure to check out Tinywood Homes when you're in England!

---